One of South Africa's brightest talents has grown into his life as a globe-trotting professional, writes MICHAEL VLISMAS.
Everything you need to know about the quality of Wilco Nienaber is encapsulated in a single sentence he utters in the midst of this interview.

One of the brightest young talents in world golf pauses after being asked what were some of the biggest adjustments he's had to make to take his game on to the European Tour, Challenge Tour and PGA Tour. His answer is so real, and reveals so much more beyond his ability to hit a golf ball insanely far.
'You know, I find it really tough calling you Michael, and not Oom Michael,' the 21-year-old says. 'When I started travelling, I found that tough with people who are older than me. It just doesn't feel right, in a way. It's about respect and manners.'
If you consider Nienaber's childhood in Bloemfontein, the Grey College he attended, where you were taught to stand up when somebody older enters a room, and the parents who raised him, you'll understand why he says his biggest challenges and his biggest growth this past year have come outside the ropes.
The result is that Nienaber returns to South Africa a vastly different golfer to the one who last summer came close to winning the Joburg Open – finishing second – and who had the golf world talking about his length off the tee.
And they still are.
He returns this summer as a winner, having broken through with his maiden professional title at the Dimension Data Pro-Am at Fancourt in May. He returns having played at his first Major – the US Open at Torrey Pines where he was in action through to the weekend and finished tie-68th. And he returns as an expert in the skill of washing clothes in a hotel bath.
'On the golf course I've definitely grown in my game and experience. But I think the most growth has come off the course. Just learning to be by myself and become more independent. After the Dimension Data Pro-Am I was away for 15 weeks. At times I didn't know whether or not I would be able to go home because South Africa was still on the Red List for travel.
'The admin side of the game was another adjustment. Not knowing where to go to register for tournaments or where to find the tournament office … that all felt so new, and out of my comfort zone. It was kind of the same feeling I had when I turned professional. For me, on the golf course, wherever I was, it was just another tournament and golf swing. But off the golf course, being alone on Tour is tough.
'I used to have a base in Manchester where my manager had a house. But he sold it, so there wasn't the sense of a base overseas. I felt like I was floating around a lot, and for a guy who likes to know what's going on, that was an adjustment. Especially when you have an off week. You want to be some place familiar. I also found it hard to pay five euros just to have my underwear and socks washed, so I got good at washing them in a bath.
'In a way, that all fed into the golf game. I know my career is a marathon and not a sprint. I've always had a different path to most people, and that won't change. It's always worked out for me. This year has really strengthened my belief in trusting the process.'
Nienaber highlights the little things that all contribute to being a successful touring professional. And he noticed this when he played a practice round with Branden Grace and Louis Oosthuizen at the US Open.
'I asked Louis if I could play a practice round with him. The last time I played a practice round with him he won, so I was hoping he'd say yes again, and he did. It was an eye-opener for me just to see how they approach the Majors. Specifically how they are able to adapt from week to week of tournaments. Obviously, they look like they have it all figured out. It was really valuable to see how comfortable they looked and how they adapt so quickly.'
As he says this, you get the sense that Nienaber has made a note of everything he's observed this past year. That he has meticulously filed it away in his mind as part of his journey. And that he will use it to his advantage very soon. In that sense, he's able to look at a year he admits has been tough, but one he still describes as 'a really good year'.
'The player I am now, compared with the player I was six months ago, is way different. My goal is to play at the Majors and at the biggest tournaments in the world. I've always said that. So my win at the Dimension Data Pro-Am was, in my mind, the beginning of more. That got me into the US Open, so I was able to tick that goal. Thanks to Mr Johann Rupert, I was granted an invitation to play at the Palmetto Championship on the PGA Tour and finished tie-14th. That ticked another goal of my first PGA Tour event. Those goals wouldn't have happened without Mr Rupert and the Dimension Data Pro-Am.
'Then people saw me play and liked seeing the golf ball go really far and that got me an invitation to play at the Barbasol Championship on the PGA Tour. After that I played at the FedEx St Jude Invitational. So I look at that and see four PGA Tour events, including a Major and four cuts made.
'I'm really proud of that achievement. It might not look like much, but I'm very proud of it. What excites me is that I've achieved all the goals I set for myself, despite a lot of setbacks in between. There wasn't one stretch of tournaments where everything went fluently and according to plan. At every tournament something happened that wasn't planned and it taught me how to just get on with things. I feel like I've already dealt with quite a few things and know how to handle them now. I've learned how to adapt.'
It's with this energy that Nienaber explains why he's looking forward to returning to South Africa for the summer leg of the Sunshine Tour and what he could achieve here.
'I'll approach this summer in South Africa with a lot more patience in my game and perhaps with a better understanding of how to handle certain situations. Also, knowing the courses now, I'll play them differently and more to my strengths.'
The most obvious strength, and the one that gets all the attention, is his distance off the tee. To see only Nienaber's length off the tee would be to miss so many other impressive elements of his game. But it is the one that grabs the most attention for obvious reasons, and it's something he's learned to accept.
'Anyone can hit it far, but you've still got to score. I can tell you, I've played with many players where I hit driver, wedge and putt for birdie, and they hit driver, lay up and hole a 40-footer birdie. Same score. Sure, mine looks easier, but you've still got to know how to score with your game.'
Nienaber's distance is something that developed in his game thanks to his father delaying buying him a driver when he was a junior golfer, which meant he had to play mostly with a 3-wood. As he became better and started playing in older age groups, Nienaber never wanted to be left behind off the tee. So he developed his technique to the point that when he did finally get a driver in his hands, he was hitting it further than the professionals while still an amateur.
He laughs when he recalls this story. And it reveals again the close relationship he has with his parents, and in particular his father.
'I started playing golf after watching my dad [above] hitting golf balls in the yard. But my parents never pressured me to do what they wanted me to do. I always got to choose and had their support. If it weren't for my parents I wouldn't be where I am in my career. I still learn so much from them about the person I want to be.
'As a family [he is the youngest child, with two older sisters] we believe things happen for a reason and as they should. If it has to work out, it will. I'm a religious person so I know there's a bigger plan. And speaking to my dad after a long day on the golf course is a privilege for me because it's just this conversation between a father and son, and it reminds me of when I was at school. I hope I can have that one day as a father. My dad has the best way of putting things without hurting anyone's feelings.
'As a family we're very close, and I've learned that it's really important to have the right people around you. Beyond them, the opportunities I was given as a member of the Golf RSA squad, and the support from Mr Rupert has been incredible. It's all played a role in making me a better golfer and I'm extremely grateful for that.'
No doubt, the Wilco Nienaber who left these shores in May will return as a vastly different golfer for one very clear reason that goes far beyond anything technical about his golf game.
'It comes down to knowing what I know now. I know myself better. I'm happy where I am.'
20 BEST FINISHES
2019: Le Vaudreuil Golf Challenge (T11th)
2020: Joburg Open (2nd), Limpopo Championship (2nd), English Championship (4th), Andalucia Masters (6th), Alfred Dunhill Championship (12th), DP World Tour Championship (T23rd), South African Open (T11th), Portugal Masters (T14th), Celtic Classic (T22nd), Cape Town Open (T14th)
2021: Dimension Data Pro-Am (1st), Open de Espana (T6th), Palmetto Championship (T14th), Rolex Challenge Tour Grand Final (T8th), Cape Town Open (T22), Saudi International (T33rd), US Open (T68th), Dutch Open (T22nd), Andalucia Masters (T49th)
– This article first appeared in the December 2021 issue of Compleat Golfer magazine. Subscribe here!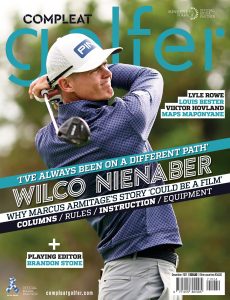 Photo: EPA/Mariscal/BackpagePix
You may also like