Lewis Hamilton regained the F1 Drivers' Championship lead after Sebastian Vettel crashed out of a rain-hit German Grand Prix.
Hamilton ― looked a distraught man after having car problems in qualifying ― could not have had a better day. Starting from 14th, he worked his way through the field fairly quickly and got into fifth after just 14 laps.
At the front of the race, Vettel had a comfortable five-second lead over Valtteri Bottas ― who was followed by Max Verstappen and Kimi Raikkonen. The lead changed hands after Vettel pitted to allow Ferrari teammate Raikkonen to take the lead. Vettel was struggling with his tyre temperature and he locked up a couple of times in his efforts to get past his teammate. Ferrari had to intervene as Raikkonen was told that he and Vettel were on different strategies and he was told to let the German pass him. The Finn reluctantly agreed and surrendered the lead to his teammate on lap 39.
As the rain started to fall in parts of the track, Hamilton pitted and fitted ultra-soft tyres, clearly expecting the rain to not last very long. On lap 46, a couple of the teams pitted to put on the intermediate tyres. Verstappen did the same a couple of laps later, but that turned out to be a mistake as the rain disappeared soon after.
Vettel lost a part of his front-wing going over a curb on lap 50, which proved to very costly as only two laps later he crashed out after hitting the barrier after going too wide into a corner and could not correct his mistake in time.
Utter heartbreak for Vettel at his home race 💔#GermanGP 🇩🇪 #F1 pic.twitter.com/bTEgcUKoT7

— Formula 1 (@F1) July 22, 2018
The safety-car was deployed and Raikkonen pitted from the lead, followed by Bottas as both Finn's switched to ultra-soft tyres. Hamilton, to everybody's surprise, was now in the lead.
The safety car ended on lap 58 and the two Mercedes drivers battled wheel to wheel but Hamilton did just enough to stay ahead of Bottas, who was given orders to back off as they did not want to see the two of them take each other out.
The rain never really went away, but Hamilton was not waiting for it to intensify, as he put in fastest lap after fastest lap on his way to claim his 44th career victory and thus taking a 17-point lead in the drivers' championship. Bottas came home in second and Raikkonen completed the podium.
Despite crossing the line in first place, Hamilton might lose his victory after the race stewards summoned him to explain a driving misdemeanour after he aborted a decision to pit. The Mercedes driver crossed the line that separates the pit entry and the track, which is prohibited.
Race Classification: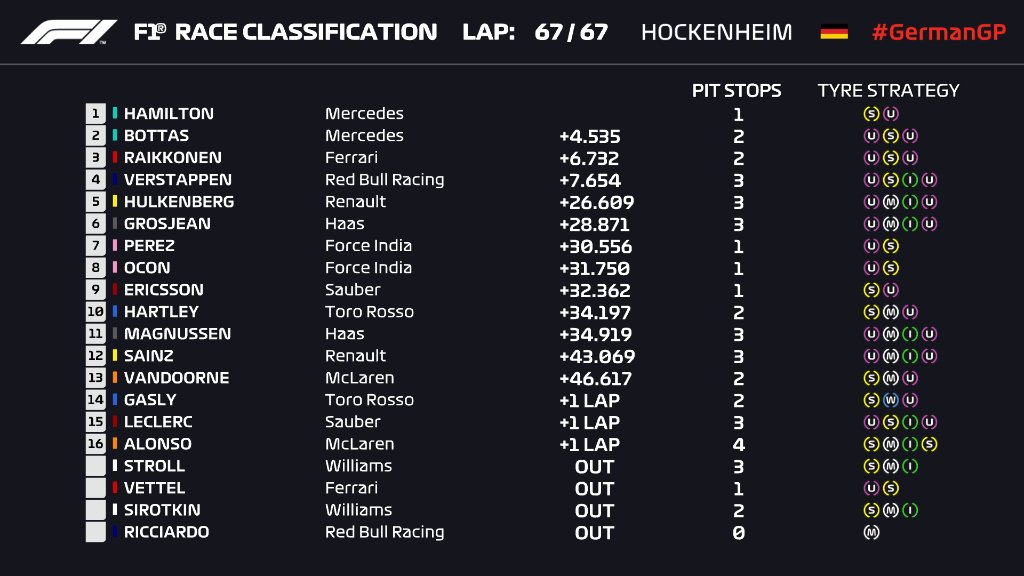 Championship Standings: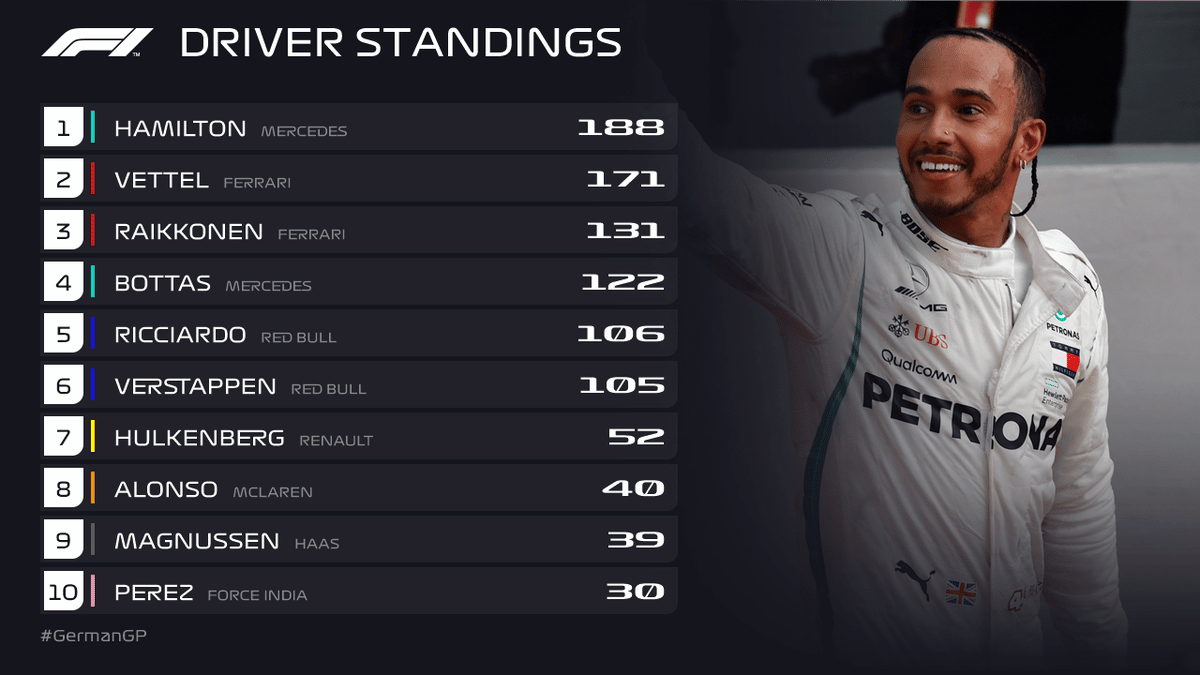 Photo: @F1/Twitter
You may also like