Max Verstappen labelled Esteban Ocon a 'f****** idiot' after the Red Bull driver was robbed of a brilliant victory following a collision at the Brazilian Grand Prix.

Verstappen, who was comfortably leading the race after a brilliant drive, was on course to win two consecutive races for the first time in his young career when the incident happened on lap 44.
However, Lewis Hamilton's victory helped Mercedes claim their fifth consecutive constructor's title as they continue to dominate the sport. The victory was also Hamilton's 50th out of a possible 99 races in the turbo-hybrid era.
Mercedes had a perfect start as Valtteri Bottas, who was on ultra-softs, got past Sebastian Vettel – on softs – at turn one as Mercedes looked to control the race from the front.
The two Ferraris were under attack from Verstappen on lap three and the Flying Dutchman dispatched Kimi Raikkonen with ease before flying past Vettel on the same lap. It was a torrid afternoon for Ferrari; their decision to start on the softs clearly backfired as their race was nowhere near the front-runners.
Verstappen set his sights on the Silver Arrows ahead. He caught up to Bottas and got past the Finn without breaking a sweat as he chased after Hamilton.
The Mercedes had no answer for the Red Bull as Verstappen gained the lead after passing Hamilton on lap 40 as the Dutchman looked on course for a second consecutive Grand Prix victory. But disaster struck for Verstappen when Ocon tried to unlap himself and didn't leave the race leader enough space, which forced contact between the cars. The result was Verstappen spinning around, which resulted in Hamilton regaining the lead.
Lap 44, Max is leading the race, then this… #BrazilGP 🇧🇷 #F1 (Sound 🔊) pic.twitter.com/FhMgkehVtG

— Formula 1 (@F1) November 11, 2018
Verstappen was furious and yelled over the radio: 'What a f****** idiot.' Ocon received a 10-second stop-go penalty for the collision.
Try as he might, the Dutchman couldn't catch up to Hamilton and the Brit took the victory to seal another successful year for Mercedes. Raikkonen completed the podium.
After the race, Verstappen confronted Ocon, proceeded to push the Force India driver and threatened to punch him.
There was contact on the track, and a bit off it too 😡 #BrazilGP 🇧🇷 #F1 pic.twitter.com/OajZ1UM4lL

— Formula 1 (@F1) November 11, 2018
Race Classification: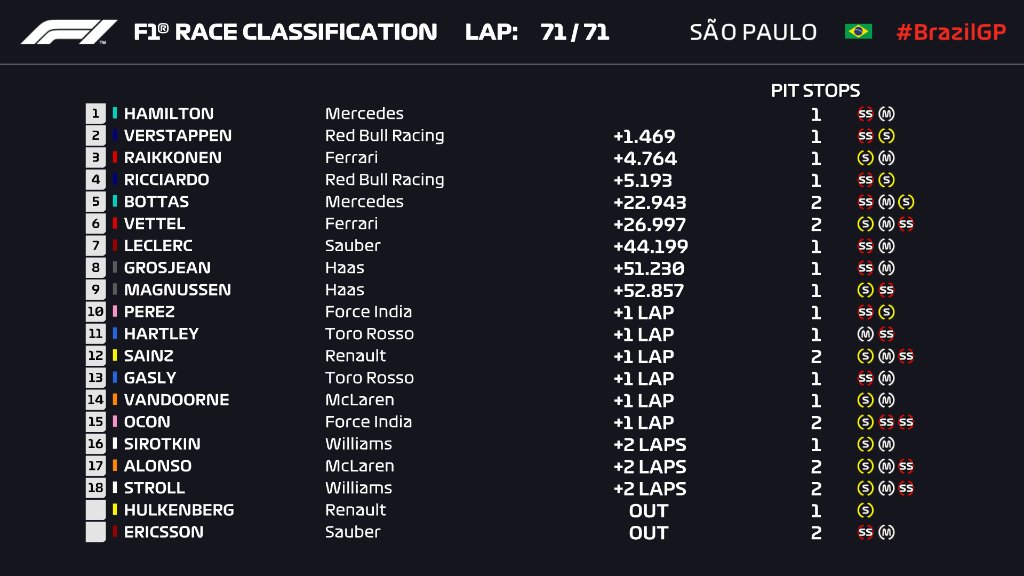 You may also like