There'll be a changing of the guard in more ways than one in London this August, writes MARK ETHERIDGE in SportsClub magazine.
This changing of the guard won't be at the traditional Buckingham Palace venue, but rather further east at the Queen Elizabeth Olympic Park, venue for the IAAF World Athletics Championships.
Marching away from the global sporting spotlight, at a stadium where he won three Olympic gold medals in 2012, will be Jamaica's superstar sprinter Usain Bolt, after a career in which he won eight Olympic gold medals and 13 World Championships medals.
But athletics fans need not worry. There's a genuine world-class talent ready to take on the mantle of athletics' shining light … South Africa's own golden boy, Wayde van Niekerk.
Let's face it, the stage is perfectly set for Van Niekerk to become athletics' favourite face, and boy, is he up for it.
The Rio gold medallist over 400m has gone from strength to strength since 2016. Already the only man in history to break the 10, 20 and 44sec barriers for the 100, 200 and 400m respectively, this year he's gone on to add the SA 200m record to his world 400m record.
And after June's personal best 9.94 over 100m in Europe, even Van Niekerk's compatriot and fellow rising star Akani Simbine will be worrying how long his 9.89 national record can survive.
Instead of focusing purely on the 400m in London, Van Niekerk is also throwing his hat into the ring over 200m, an event which he has always insisted is his favourite.
'I decided to attempt the 200 and 400m double at World Championships,' said Van Niekerk in late June. 'It's not going to be easy racing both events, but I'm looking forward to the new challenge.'
It certainly isn't an easy challenge, with the first round of the 200m taking place just over two hours before the 400m final, on Tuesday, 8 August.
Building his own legacy by doubling up over 200 and 400m is a challenge in itself, with only former US track legend Michael Johnson having won double gold in those distances at Olympic level in Atlanta, 1996.
There's little doubt that the 200/400m double is a tougher task than the traditional 100/200m sprint double, due to the debilitating nature of the one-lapper. But if anyone's up for it, it's the Bloemfontein blitz.
Former SA 100m record holder and champion Morne Nagel, now an established coach, is a keen follower of Van Niekerk's career and dispels any grey areas whether it's wise for him to go for the double.
'It's a goal he has set for himself, and knowing Wayde, you never underestimate him when he sets goals,' says Nagel. 'He has the potential to win both. He's in very good shape, speed-wise, and just needs to get that 400m fitness ready, which he'll do.'
Nor does Nagel think Van Niekerk needs to worry about being a greater athlete than Bolt, a man Van Niekerk has spent a fair time training  with and learning from.
'I don't think he needs the double to be as great as Bolt. A greater achievement for Wayde would be to dominate his events for as long as possible. That's what has made an athlete like Bolt great , dominance for years and years.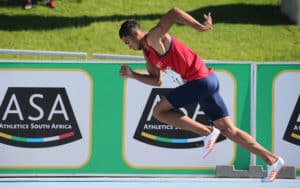 'It's hard to say when he'll reach his peak; it depends on his training every year and staying injury-free. It's very hard to run faster and faster every year. It's not necessary to run a personal best every year if you're still winning.'
Bolt will be 30 when he leaves the world stage, while Van Niekerk will be 25 in London and not really thinking of longevity yet.
'I'll just keep running for as long as I'm competitive, and as long as I'm enjoying it. I want to achieve as much as I can with the talent God has given me, and as long as he continues to bless me, I'll continue to compete in his name,' he says.
A humble man at the best of times, Van Niekerk has taken great joy from SA track and field's rise. 'I think we've been able to feed off each other's success, so every time one of our athletes takes an event to a new level, we're all motivated to do better. Coaches, high-performance centres, universities and sponsors have all played a role, and the growing interest from the public also drives us to reach our goals. It's been great to see the rise of the status of the sport, and we'll do our best to keep it going.
'The response from the South African people has been amazing. I've always had support from my family and friends, but to know I've got the backing of an entire country is incredible.'
– This article first appeared in issue 110 of SportsClub magazine
You may also like