By Mark Etheridge

in Luanda, Angola
Team South Africa's judoka fought their way to the team's first AUSC Region 5 Games medals here on Saturday… a super seven of them on a long and hot day of grappling.
Fittingly it was the team's biggest man, Juan de Bruyn (pictured above), who won the first medal of the day, gold in the 100+ kg division.
There followed a further two gold, two silver and two bronzes to get the team's medal campaign up and running.
The other golds came from little Jasmine Martin in the 57kg division and Ludwig Cross wrapped up the day's proceedings with the final individual medal of the judo code as he won the 90kg division. Just the team events remain on Sunday with another three possible medals up for grabs to SA.
Silver medals went to to Chante Labuschagne (63kg) and Vernon Henry (81kg) and the bronze medallists (they got the afternoon session of finals underway) were Mosa Thetsane (55kg) and Byron Grobler (66kg).
De Bruyn is a giant of a man, weighing in at 120kg and standing 2.01m tall. He was a rugby lock at Hoërskool Goudveld in Welkom, Free State where he matriculated last year and is now studying for a B Com through Unisa.
He beat Angola's Aguinaldo Santos in the final after having beaten Zimbabwe's Ryan Nyirenda in earlier action.
'I battled a bit against Ryan and my throws just wouldn't work properly because he's so much shorter than me,' said a happy De Bruyn. 'The final was a lot better. Even though my opponent was still shorter he played into my hands by being too aggressive.
'My dad always told me that "an angry mind is a narrow mind" and I used that against him.
'It still feels unreal to win Team South Africa's first medal. Thanks must go to God, who is always No1, the two team coaches here, Michelle Van Wezel and Preston Davids as well as my coach back home, Pannas Vosloo, and my mom and dad who always supported me through the tough times.'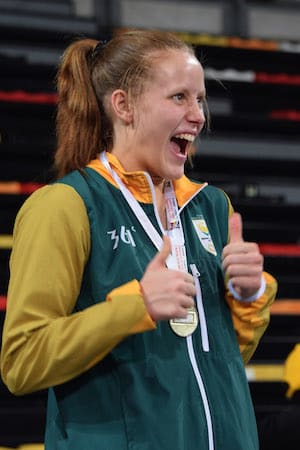 Pocket dynamo Martin, pictured here, was one of the more impressive SA fighters on the day as she never had any hiccups en route to being the team's first female medal winner of the day.
She beat Mozambique's Natalia Taju in the final, winning with an o-goshi ippon throw just a minute into the bout.
The little 16-year-old who now hails from Malvern, Pinetown in KwaZulu-Natal has an interesting history, and was completely at home language-wise in Luanda.
'I've spent most of my life in Brazil and have only been in South Africa for around a year ,' she said. So I'm getting used to all the different food and culture etc.
'I'm really, really happy to have won the first gold by a South African woman here but you can be sure I won't let this go to my head and won't lose focus. I'm done for the year now and then will focus on trials for nationals next year.
'I must also thank my coach Johan Duckworth back in Pinetown for all his help.'
The day was not without its drama as little Lucky Mabaka of Botswana was left out cold  in her 48kg fight with Zambia's Mary Kanyemba. Mabaka was thrown and put into a hold-down and remained completely motionless on the mat for ages.
As ringside officials and team officials crowded around her it was left to one of the
Team SA doctors, Thulani Ngwenya, to shed his shoes before leaping on to the dojo (mat) and rendering vital assistance before the Games medical crew arrives.
Thankfully Mabaka regained consciousness and although clearly not 100% still managed to take to the podium to receive her silver medal after the day's proceedings.
Pictures of De Bruyn and Martin courtesy of Wessel Oosthuizen/Gallo Images
You may also like