Lewis Hamilton will have to wait at least a week to be crowned a five-time F1 world champion after a brilliant race from Kimi Raikkonen and Max Verstappen at the US Grand Prix on Sunday. JUANDRE JOUBERT reports.
Raikkonen started next to Hamilton on the front row of the grid and made a great start to gain a place on the first lap for the very first time this year. The Finn, on softer tyres, got off to the perfect start and overtook Hamilton for the lead before the pair reached the first corner.
Raikkonen's teammate, Sebastian Vettel, started from fifth after receiving a three-place grid penalty for failing to slow down under a red flag in practice. The German knew that if Hamilton won the race, he would have to finish at least second to deny the Brit the world title for now.
Vettel was fourth after overtaking Daniel Ricciardo, but then disaster struck once again for the Ferrari driver after he was spun around for the third time this season after making contact with Ricciardo's Red Bull.
Max Verstappen started from 18th on the grid after he had to take engine penalties yet again. The Dutch driver made a great start and was into the top 10 without breaking a sweat on the first lap. A couple of laps later, Ricciardo had to retire due to a power failure on his Red Bull, which elevated Verstappen up to fourth.
The Virtual Safety Car (VSC) had to be deployed to remove Ricciardo's car from the track, and this is where the whole dynamic of the race changed.
Hamilton's engineer told him to do the opposite to Raikkonen. The Finn faked going into the pits on lap 11, but Hamilton had enough time to adjust and took a gamble to put on a fresh set of soft tyres. That meant that he would probably have to stop again, but he essentially got a free stop as it was under the VSC.
Raikkonen did a fantastic job to keep Hamilton's Mercedes behind him as the championship leader could not find a way past the Finn. He eventually took the race lead when Raikkonen stopped on lap 21.
Hamilton now led and, remarkably, Verstappen was only four seconds behind.
Hamilton tried to stretch his tyres to the end, but it was too much to ask. With Raikkonen almost two seconds and a lap faster than Hamilton, he decided to come in for another fresh set of softs on lap 38. He emerged behind Valtteri Bottas and, importantly, in front of Vettel.
Raikkonen led once again, with Verstappen in second and Hamilton in fourth, 12 seconds behind the leader.
With 10 laps to go, only 3.5 seconds separated the front three.
Hamilton made his move to pass Verstappen in the latter stages of the race, but he could not take unnecessary risks and let the position go by running wide at turn 18.
That fight helped Raikkonen extend his lead and he was never in danger of losing the race.
The Finn finally got to the chequered flag to win his first Grand Prix in 2,044 days (113 races), the longest gap between wins in F1 history.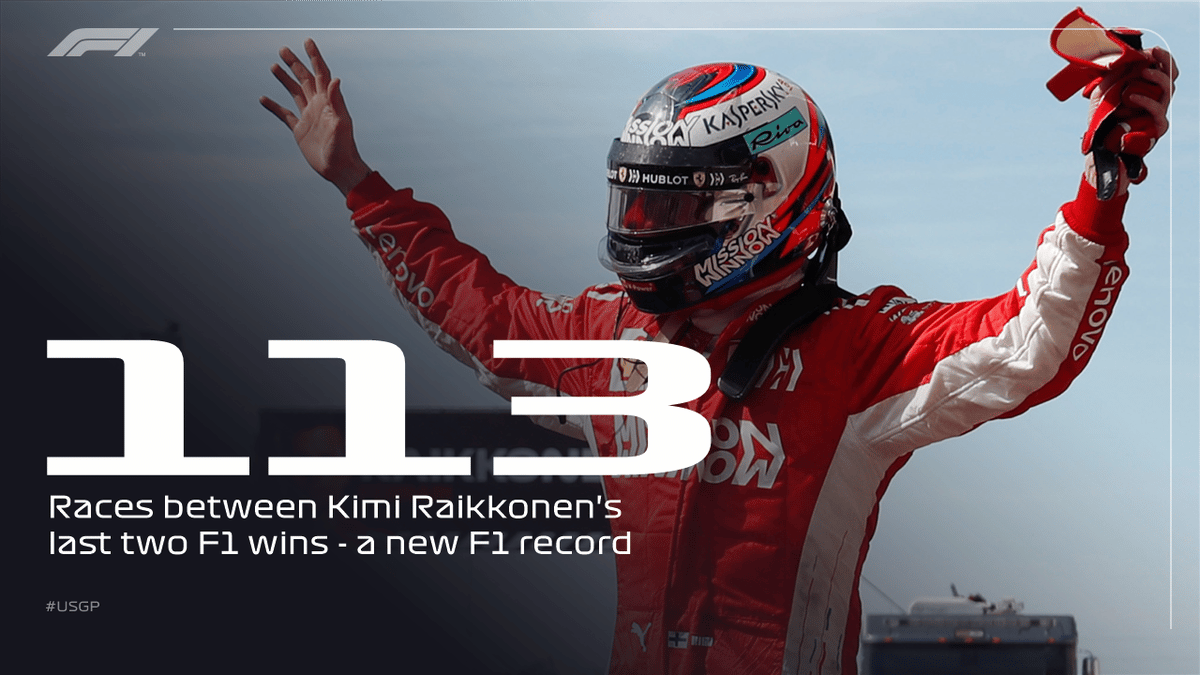 Verstappen came home in fourth while Hamilton had to settle for third. Vettel managed to pass Bottas to finish in fourth.
Hamilton now leads the championship by 70 points with only 75 points to race for, meaning Hamilton will win his fifth title if he finishes seventh or higher in Mexico.
Race Classification:
You may also like