Starting from fifth, Max Verstappen had some help from his rivals to win his first race of the season ahead of Ferrari's Kimi Raikkonen and Sebastian Vettel in Austria.
Pole-sitter Valtteri Bottas lost his lead on the first corner of the race as Raikkonen had a perfect start to get in between him and Lewis Hamilton. Hamilton had the inside line and took the lead with Raikkonen following just behind him. Raikkonen locked up at the second and third corner and was passed by both Bottas and Verstappen.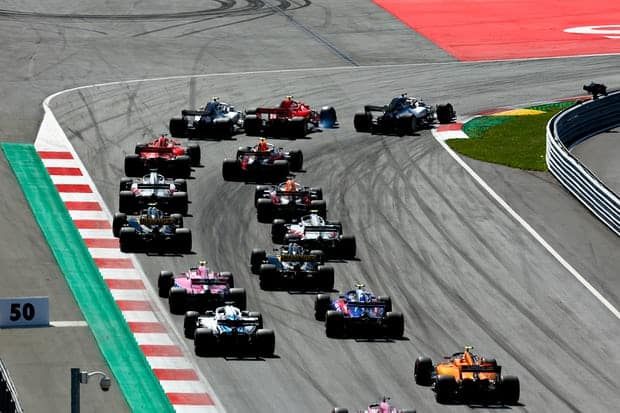 The race settled down and Hamilton had a 2.2-second lead over teammate Bottas by lap 10 with Verstappen another couple of seconds behind the two Mercedes drivers.
On lap 12, Nico Hulkenberg's engine blew up in a ball of smoke, but he managed to find an escape route, and thus did not deter the other drivers.
Just two laps later, disaster struck for Mercedes as Bottas had serious gearbox problems and was forced to retire the car as the VSC was deployed.
In front, Ferrari and Red Bull pitted both their cars under the VSC. Surprisingly, Mercedes did not do the same with Hamilton – a decision that would be disastrous for the championship leader later on. After the VSC ended on lap 16, Hamilton led with Verstappen, Raikkonen, Daniel Ricciardo and Vettel all on his tail.
Ricciardo was gaining on Raikkonen and overtook him on lap 21 to get into third. Hamilton, who had a 13-second lead over Verstappen, finally decided to pit on lap 25. He emerged in fourth behind Verstappen, Ricciardo and Raikkonen but was furious at his team as he went from race leader to fourth, and had to fight off championship rival Vettel, who sat in fifth.
By lap 35, Verstappen had stretched his lead to 5.5 seconds over Red Bull teammate Ricciardo, who struggled with blistering on his rear tyre and was overtaken by Raikkonen on lap 38. Vettel also made a move by overtaking Hamilton – who did not look comfortable on the soft tyres – on the very next lap.
After complaining about his tyres for several laps, Mercedes pitted Hamilton for the second time and fitted the supersofts. He rejoined in fifth, behind Ricciardo. Fifth soon became fourth when gearbox issues forced Ricciardo to retire – not a happy day for the birthday boy.
Hamilton looked more comfortable on the supersofts, but disaster struck when he lost fuel pressure, forcing him into retirement for the first time since the 2016 Malaysian Grand Prix; that ended a disastrous Sunday for Mercedes.
Verstappen took advantage of Mercedes' misfortune to take a fourth career victory, with the Red Bull driver inheriting the lead, having previously put a good early move on Raikkonen and then managing his tyres beautifully as several of his rivals struggled with blistering.
He crossed the line just 1.5 seconds clear of Raikkonen to take a third successive podium for the first time in his career, with Vettel coming home in third on a very strong day for Ferrari.
Vettel's third-place finish, paired with Hamilton's retirement, means that the Ferrari driver has now regained the lead in the Drivers' Championship.
Drivers standings: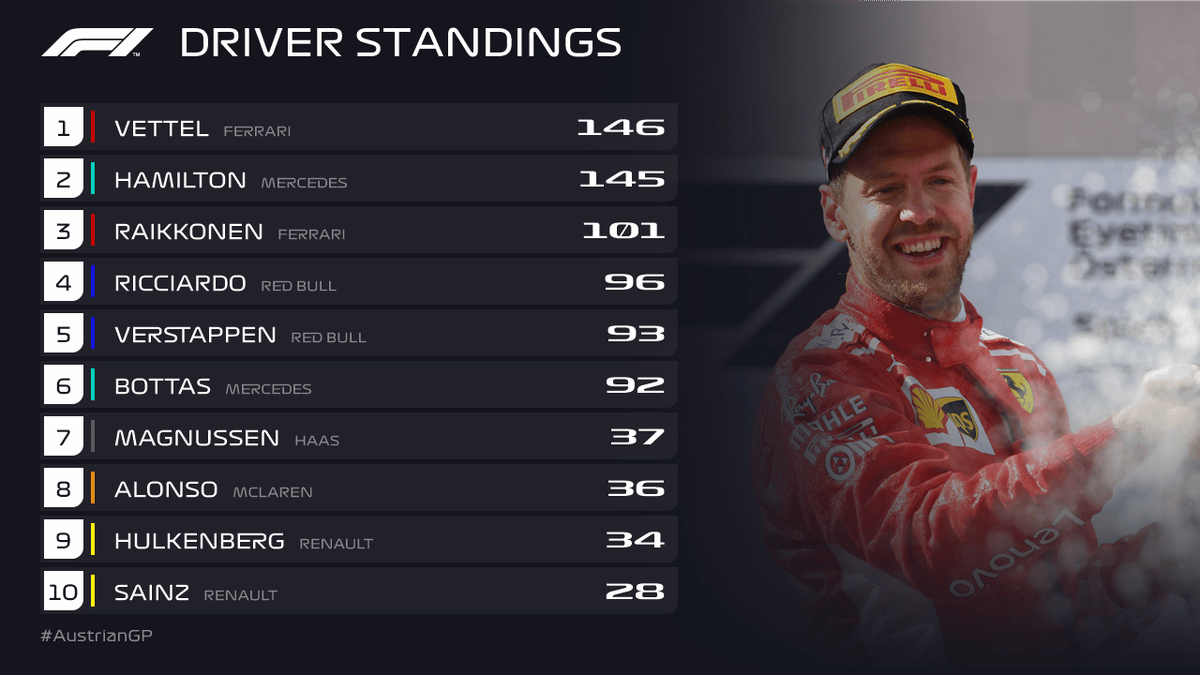 Photo: @F1/Twitter
You may also like