This fight shouldn't need any introduction, but if you've been living under a rock for the past couple months, boxing's all-time great Floyd Mayweather is set to take on UFC superstar Conor McGregor in a boxing match in Las Vegas on Sunday.
You might not be a fight fan, but avoiding a conversation about this mega match-up between an undefeated champion and a first-timer is going to be almost impossible this week.
We're here to answer all your questions and best prepare you on how to enjoy the biggest sporting event of the year.
Why is it such a big fight?
Remember Mayweather's bout against Manny Pacquiao two years ago? That absolutely smashed records in terms of how much the fighters earned and how many people watched. But this is bigger. Pacquiao is a legendary fighter with a huge global fanbase, but he doesn't have the same popularity as McGregor. The Filipino also offers nothing from a promotional point of view (he has limited English and is ultra-polite) while McGregor is the best talker since Muhammad Ali. Mayweather remains a super villain who has perfected the art of coaxing fans into paying to watch in the hope he loses. Quite simply, this is the two biggest draws in combat sports of the past 20 years going against each other. Add in the peculiarity of having an MMA fighter take on a boxer and you have a perfect recipe for success. It's money.
Why will Conor win?
– He's got power in his left hand and it only takes one punch.
– Mayweather has been caught by straight lefts from southpaws in the past.
– He has a level of confidence that allows him to achieve unimaginable feats.
– He's young and in his prime at age 29.
– Mayweather hasn't fought in two years and is 40 years old.
– He's fought an all-time great on a lengthy winning streak before (Jose Aldo) and knocked him out in the first round.
– He'll be able to bully Mayweather in the clinch.
Why will Floyd win?
– He's forgotten more about boxing than McGregor has ever learned.
– He is arguably the best defensive fighter of all time and an expert on avoiding being caught.
– He's fought bigger, stronger fighters before and rendered their attacks impotent.
– He never takes chances and will prepare perfectly for this fight.
– He's still in incredible shape for a 40-year-old.
– He has fought for decades against the best in the world — this is McGregor's first fight.
Why should you cheer for Conor?
He is the underdog. From what we know of his real personality he's the more likeable man, and a win by a debutant against a fighter with claims to be the greatest of all-time would be one of the biggest sporting upsets of our lifetime.  A win could open the door to other entertaining crossover fights between boxers and mixed martial artists.
Why should you cheer for Floyd?
He's striving for a historic 50-0 boxing record. He is representing the reputation of boxing — which can't afford to have a debutant knock off one of its greats, and he has dedicated his entire life to the sport, which should count for something.
Who should you bet on?
The smart money is on a Mayweather win — but by decision, to fatten up the odds. He hasn't knocked out a fighter who was defending himself since 2007, so if you think McGregor can survive 12 rounds it's worth a look. But if you're looking for a bit of fun, throw some cash at a McGregor knockout. It will be a massive shock if it happens, but if you're pocketing some coin when it happens it's only going to make the day more exciting.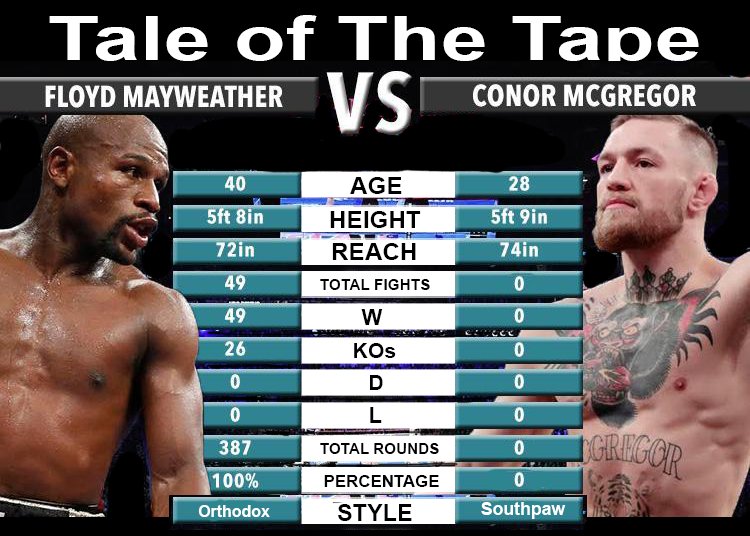 Where can you watch it?
SuperSport has secured the rights to air the fight, so if you have a Premium DSTV subscription, you will be able to watch on SuperSport 2 and SuperSport Maximo.
What time will it start?
It's always hard to pin down an exact time for these fights because the cards tend to drag on a bit, but SuperSport will cross to Las Vegas at 03:00 for the action-packed undercard, with the main bout expected to start after 05:00.
You may also like