UFC star Conor McGregor has no chance of beating the undefeated Floyd Mayweather in the boxing ring on 26 August, writes JUANDRE JOUBERT.
The fighters:

A career record of 49-0 is no fluke, and Mayweather would not jeopardise it if he had any doubts that he might lose to McGregor. By pushing to have this fight, McGregor has given Mayweather the chance to become a boxing 'god' as no world-renowned professional has ever gone 50-0 (heavyweight legend Rocky Marciano also retired with a 49-0 record).
With a chance to claim boxing immortality, Mayweather is training harder than ever before to take down the big-talking mixed martial arts fighter from Ireland.
McGregor has put his UFC career on hold to train for his boxing debut, vowing to become the first man to defeat Mayweather. Just pause on that: a fighter with an 0-0 boxing record taking on one of the greats (49-0). It's an impossible task, but McGregor is confident and determined to show the world that he never backs down.
After he lost his first fight against Nate Diaz (via a rear naked choke), having moved up two weight divisions, he vowed to come back stronger. He did exactly that and won the rematch that went the distance via majority decision.
McGregor would also not have agreed to step into the ring with Mayweather if he thought that he had no chance of winning. He has noted that Mayweather has had a few issues when fighting against southpaws (as seen in the fight against Zab Judah), and being a southpaw himself, he feels that he can take advantage and cause an upset against one of the greatest to have ever stepped into a boxing ring.
The money:

According to Keith Idec of Boxing Scene, Mayweather is expected to make at least $100-million (around R1.3-billion) but his take could balloon to four times that much if the event hits all of its monetary metrics. McGregor will make at least $75-million (about R966-million).

We are not talking about pocket change here. This fight will bring in upwards of R2-billion.
Is it all about the money? You bet it is!
Mayweather said he will only agree to the fight if he can take home a guaranteed $100-million, and McGregor will take home five times as much as he's made from any UFC event.
Talk of this fight began as far back as June 2015, if money was not the main issue, the fight would have taken place ages ago.
The fight:

The venue is the T-Mobile Arena in Las Vegas and the bout is scheduled to be 12 three-minute rounds at a weight of 154 pounds (69.54 kg), using 10-ounce (0.28kg) gloves.
McGregor's UFC fights are normally three five-minute rounds, and five five-minute rounds in a championship bout. That means the longest fight that Connor has had in his UFC career is 25 minutes, whereas a boxing fight that goes the distance will be 36 minutes.
What will happen: 
I will be astonished if this fight goes the distance. Mayweather will bob and weave his way around every shot that McGregor throws at him, and counter with tactically smart body shots to tire out the Irishman. He won't throw as many punches as McGregor, but his punches will land, and they will land hard.
That's not to say McGregor's punches (if they land) won't do any damage, but Mayweather is a very smart boxer, who will take those punches strategically and counter punch when the opportunity is there.
Here's a look at his stats against Manny Pacquiao: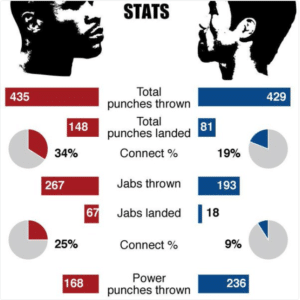 Who will win:

Mayweather will win by knockout in the sixth round and become the best boxer in the history of the sport.
McGregor needs a lucky shot that knocks Mayweather out cold, which will never happen.
However, no matter what happens, both fighters will be laughing all the way to the bank.
Photo: Showtime