Max Verstappen's record-breaking arrival in Formula One has been the stuff of dreams, writes RAY LEATHERN in the latest issue of SportsClub magazine.
The late, great Ayrton Senna separated himself from his competitors in two key aptitudes: his ruthlessness in close-quarters racing and his superb feel in rain and mixed conditions. The same traits the young 'Flying Dutchman' of F1, Max Verstappen, was about to show at a soaking wet Brazilian Grand Prix at Interlagos in 2016. 
After qualifying fourth in a rain-affected race that drivers described as 'nightmarish' before it was red-flagged (twice), Verstappen barely managed to avoid hitting the guardrail when he spun on standing water on the curved main straight, producing one of the best saves in modern F1. After a tyre change left him in 16th, at the back of the grid, with just 15 laps remaining, Verstappen's supreme car control came to the fore as he performed overtake after overtake in terrible visibility to finish third. Lewis Hamilton took the win that day, but this was Verstappen's 'Senna moment', and he received considerable praise, including from Red Bull team principal Christian Horner, who called it 'one of the best drives in Formula One history'. However, to really gauge what kind of impact the young firebrand has had on the sport, you need to backtrack a few years.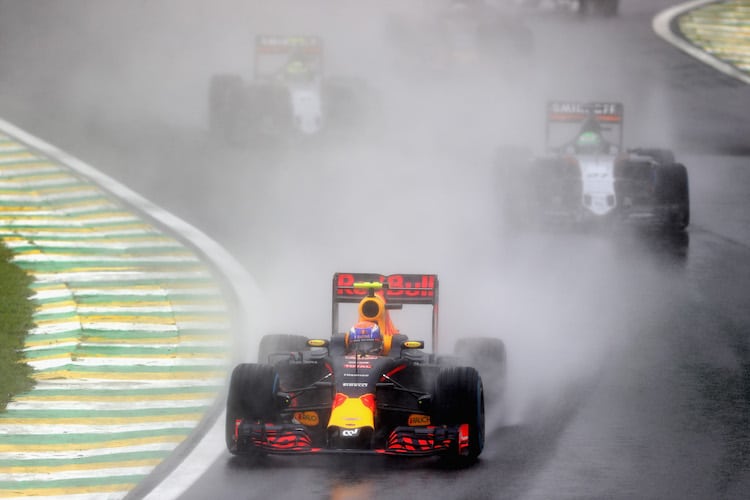 The 2014 season heralded the end of four years of dominance by Sebastian Vettel and Red Bull with the introduction of new engine regulations. High-revving, naturally aspirated V8s were out and V6 turbo hybrids with energy recovery were in, as were ridiculous aerodynamic regulations that gave us protruding nose cones more akin to Adult World than Autodromo di Monza. Like so many times before in F1 history, meddling by the governing body had taken the sting out of the sport it was meant to safeguard. It was no longer a flat-out sprint like the last era of turbo cars in the big-power, big-downforce '80s. Teams needed pace, but what mattered most was deploying control unit modes to either harvest or discharge the on-board energy store and manipulate the two-compound Pirelli tyre regulations to a particular strategy. 
The world's premier racing formula instantly became an exercise in endurance and reliability. Races were 'managed' rather than 'won', and the two front-running Mercedes-AMGs had the formula down pat. Someone needed to put the 'max' back into maximum attack.
Fast forward one year and Hamilton lines up in his Silver Arrow for the season opener in Australia, chasing down a third world championship, while a 17-year-old rookie from the Netherlands takes to the grid for Red Bull Racing development team Scuderia Toro Rosso. Son of former-F1 racer Jos 'The Boss' Verstappen and not old enough to drive on public roads, Verstappen becomes the youngest driver in F1. 
Showing promise in his opening races and outperforming even the senior team with his one-lap qualifying pace, the STR's Renault power unit consistently let him down. Dealing with the disappointment of unreliability and first-lap crashes would become a virtue for the young Dutchman. 
Finishing the 2015 season at STR, Verstappen received three awards at the FIA end-of-year prize giving: Rookie of the Year, Personality of the Year and Action of the Year for his audacious overtake on Felipe Nasr around the outside of Blanchimont at Spa-Francorchamps. It proved he was no flash in the pan, and it was clear he needed a better car to match his precocious talent. 
His 2016 campaign was to take a dramatic turn. After just four races he was told he was to replace Daniil Kvyat in the top-flight Red Bull team. He was hurtling head-on towards his fate, like only Verstappen could.
When the F1 circus arrived at Catalunya for the 2016 Spanish GP, Red Bull shocked the paddock with Verstappen's decisive promotion. But more shocking was his qualifying performance in a new, unfamiliar car – he put it on the second row. On the opening lap, feuding Mercedes teammates Hamilton and Nico Rosberg infamously took each other out and Verstappen eventually assumed the lead and held off all contenders with a gritty, focused performance. With just 24 F1 races behind
him, he was now in a contending team and the sport's youngest winner at the age of 18, displacing Vettel.
He enjoyed a purple patch in his 17 races with Red Bull that year, achieving 11 top-five finishes, including six podiums – Austria, Germany, Silverstone, Sepang, Suzuka and that career-making drive at Interlagos – an incredible run that culminated in a top-five finish in the 2016 drivers' championship. Garnering a reputation as a fearless, no-quarter-given racer who'll go wheel-to-wheel with anyone on the grid no matter their standing, his on-the-edge style inevitably landed him in hot water. Like at the Belgian GP, where he collided with Kimi Raikkonen, pushed Vettel wide and later aggressively blocked Raikkonen. Critics labelled his decisive overtaking and robust defence as 'dangerous'.
After his breakthrough season, Verstappen exchanged his carefree teens for the challenging circumstances of young adulthood. Last year saw his true potential remain unfulfilled – marred as it was by seven DNFs, four due to mechanical issues and three to first-lap collisions – but excellent victories in Malaysia and Mexico did point to the growing maturity of his race craft. 
Capable of astonishing speed in his agile yet underpowered Red Bull, already staking claim to three giant-slaying victories at the age of just 21 (the great Senna was 26 before he'd bagged an equivalent haul), it's worth highlighting that none of his wins have come from the comfort of pole position and with the fastest car. 
When he finds himself in one of those, it's surely not a matter of if, but when he will become a multiple champion.  
To subscribe to SportsClub magazine click here!
Photo:  Peter J Fox/Getty Images
You may also like