Team orders ensured that Lewis Hamilton extended his lead in the F1 Drivers' Championship after he claimed victory ahead of Valtteri Bottas and Sebastian Vettel in Russia, JUANDRE JOUBERT reports.
Hamilton now leads Vettel by 50 points after Bottas was told to let the Britt pass, which effectively handed him the victory at the Russian Grand Prix.
Bottas and Hamilton started on the front row while Vettel was back in third. The race got off to a great start as Vettel overtook Hamilton, but Bottas helped his teammate to stay second by moving over into his line to allow the overall leader a great slipstream.
At the back, Max Verstappen ― who due to engine penalties started in 19th ― got off to a flying start. He moved into the top 10 in no time.  His teammate Daniel Ricciardo did not get through the field as quick, but he did make steady progress.
Bottas was the first of the leaders to pit for new tyres on lap 13 with Vettel following a lap later. Hamilton stayed out until the end of the following lap. He was confused when he emerged behind his championship rival, but a mistake from Vettel allowed Hamilton to get past, and he never looked back.
Verstappen, who hadn't pitted yet, was surprisingly leading the race. He was putting in fast laps on tyres that were much older than the other front-runners, that resulted in Bottas and Hamilton not getting close to the flying Dutchman.
On lap 25, Bottas received the following message: 'You need to let Lewis by into turn 13 this lap,' the Finn's race engineer, Tony Ross, said over the radio. Bottas was not happy about it, but he obliged and let Hamilton through. A couple of laps later he questioned who the order came from.
Mercedes chief strategist, James Vowles, was on Bottas' radio to explain their decision.
'Valtteri, it is James,' he said. 'We had a risk with Lewis against Vettel. He has a small blister [on his tyre]. I had to do this to make sure we secured this.'
Verstappen was still in the lead, but still had to stop, so Hamilton was effectively leading the race. The Dutchman, who turned 21 on the day, finally came in with 10 laps to go.
Hamilton was never in danger and took the chequered flag by two seconds ahead of Bottas while Vettel was a further five seconds adrift.
The Britt now has a 50-point lead and there are only five races to go in this year's campaign.
Race Classification: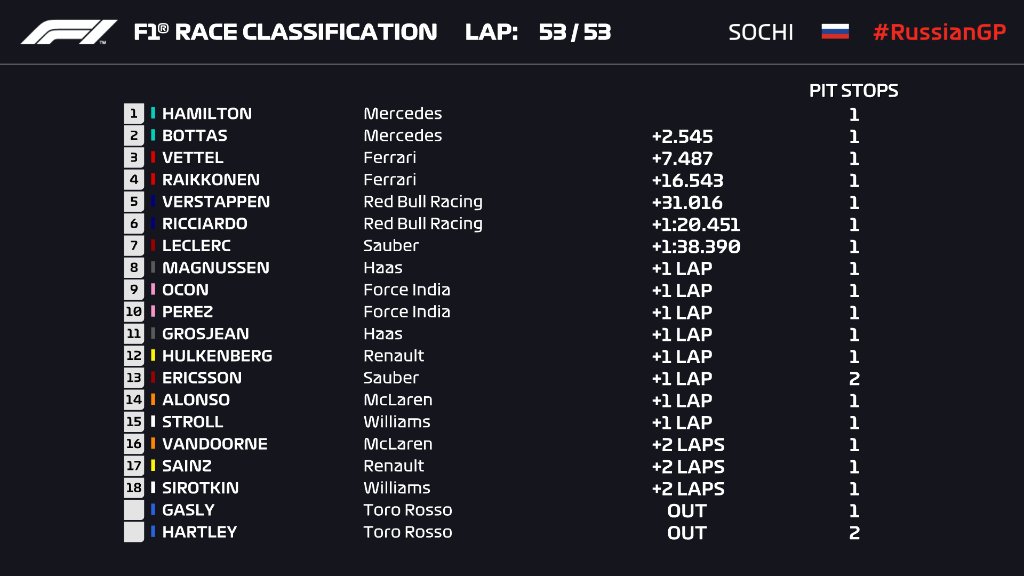 Photo: Maxim Shemetov/Reuters
You may also like