Lewis Hamilton extended his Formula One championship lead after winning the Italian Grand Prix in Ferrari's backyard.
Kimi Raikkonen started from pole, Sebastian Vettel in second and Hamilton in third. On an eventful opening lap, all three cars got away swiftly before Vettel spun after touching Hamilton on turn four and was left in 18th place.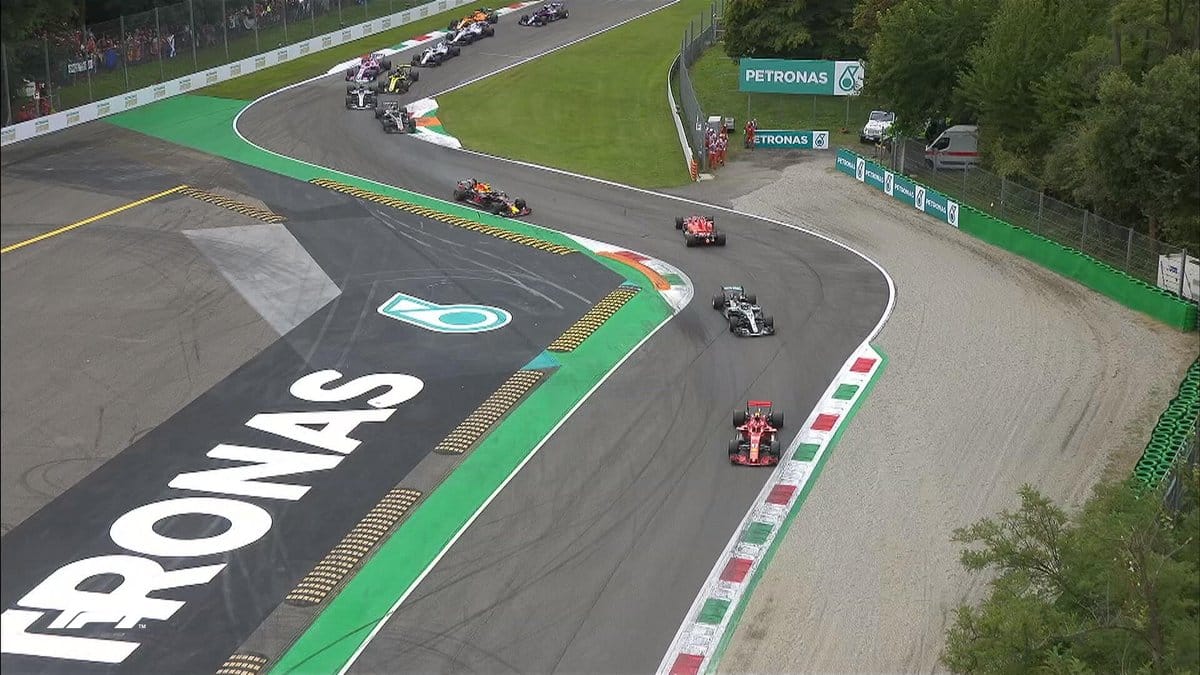 Vettel had front-wing damage and had to pit under the safety-car, while he also opted to change his tyres. He emerged at the back of the pack, and his challenge for the race was effectively over.
At the front, Raikkonen was still in the lead and keeping Hamilton at bay, while third-placed Max Verstappen did the same with Valtteri Bottas.
The race came alive when Ferrari decided to pit on lap 21 and Mercedes left both their drivers out. Raikkonen set the fastest lap after pitting, but he damaged his tyres, which proved to be a mistake later on.
Hamilton pitted on lap 29, which meant his tyres were fresher by eight laps as Raikkonen attempted to overtake Bottas for the lead. Bottas played his role to perfection by not letting Raikkonen pass him, and the Ferrari driver was left to fight an onrushing Hamilton.
Once Raikkonen finally got passed Bottas, who pitted in lap 36, the gap between him and Hamilton was less than a second.
Raikkonen tried his best to keep Hamilton behind him, but his tyres were too worn out and Hamilton took the race lead on lap 45.
There was only going to be one winner from there, and that was the Brit. He extended his lead to 3.5 seconds one lap after taking the lead.
Vettel, who had a miserable afternoon, did well to get up into fifth place. His afternoon got a little better when Verstappen was handed a five-second penalty for causing a collision with Bottas.
Verstappen was told to let Bottas pass and focus on Vettel, but he refused and ultimately finished the race in third, but the penalty relegated him to fifth.
Hamilton spoiled Ferrari's party by claiming his fifth win at Monza and in doing so he extended his lead in the championship to 30 points over Vettel. Raikkonen and Bottas completed the podium.
Race Classification: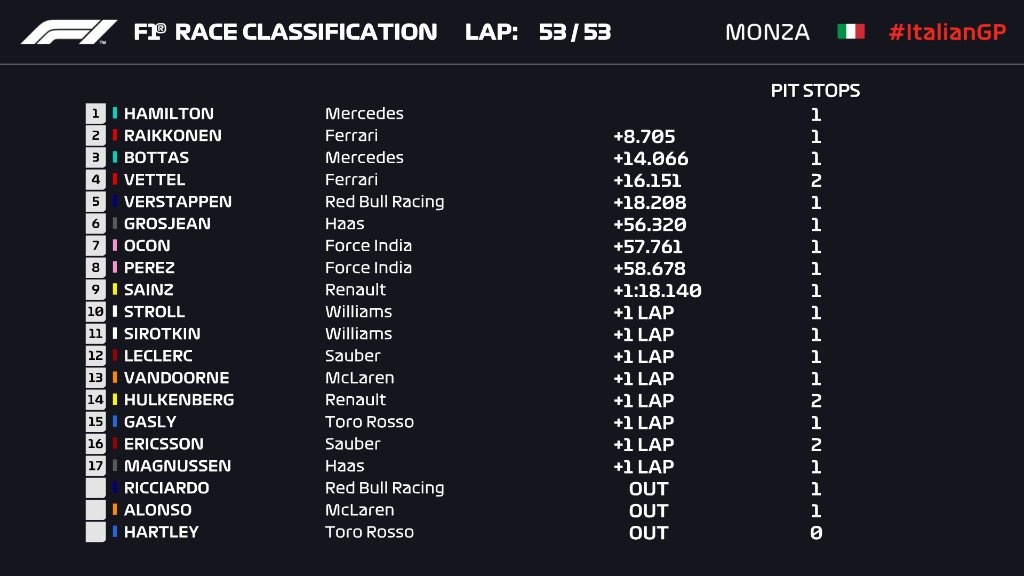 Photo: @F1/Twitter
You may also like