Lewis Hamilton won the Singapore Grand Prix to extend his Formula One championship lead to 40 points over Sebastian Vettel. JUANDRE JOUBERT reports.
Coming into the weekend, everyone expected Ferrari to be the fastest and that is how it turned out until Q3 when Hamilton and Max Verstappen produced scintillating laps to secure the front row of the grid.
The race began in perfect fashion for Hamilton as Verstappen got off the line slowly and had to fight off Vettel. That gave the Britt a chance to get away with relative ease.
Vettel managed to get past Verstappen just before the safety car was deployed on lap one after Sebastian Ocon's race was ended when he collided with his Force India teammate, Sergio Perez at turn two.
Hamilton backed up the pack quite a bit behind the SC as he knew that Ferrari were struggling to keep their tyre temperatures up throughout the weekend.
He chose his moment to accelerate to perfection and got away from Vettel. He was never troubled by his title rival and controlled the race-pace perfectly.
The race changed dramatically for Vettel when Ferrari decided to pit on 15 for a fresh set of ultra-soft tyres while Hamilton and Verstappen stayed out.
The undercut did not work, in fact, it actually backfired on Vettel as Hamilton extended his lead once he pitted, and to make things worse, when Verstappen pitted, he came out ahead of the Ferrari.
Vettel was on faster tyres, but he could not catch the two in front of him.
There was a bizarre moment later in the race. Hamilton was enjoying a comfortable four-second advantage over Verstappen but when he caught traffic on lap 38 his buffer instantly vanished. Romain Grosjean and Sergey Sirotkin may have been battling for position but the pair failed to leave room for the leading duo and it almost allowed Verstappen to make a move for the race lead, one which would have been highly controversial. Rightly, the stewards punished both Grosjean and Sirotkin with five-second time penalties.
Luckily for Hamilton, he managed to keep Verstappen at bay and extended his lead over the Dutchman with some sublime driving.
There was another controversial moment involving Perez. He got frustrated by not being able pass Sirotkin, and when he got finally got next to him, he swerved to his left and collided with the Russian. That moment of madness resulted in a drive-through penalty.
Not the cleanest pass Checo's ever made…@ForceIndiaF1 #SingaporeGP 🇸🇬 #F1 pic.twitter.com/qk5s3ZzldR

— Formula 1 (@F1) September 16, 2018
Hamilton went on to win the race by 8.9 seconds ahead of Verstappen, while Vettel had to settle for third. Hamilton now has a massive 40-point lead over Vettel with only six races remaining.
Race Classification: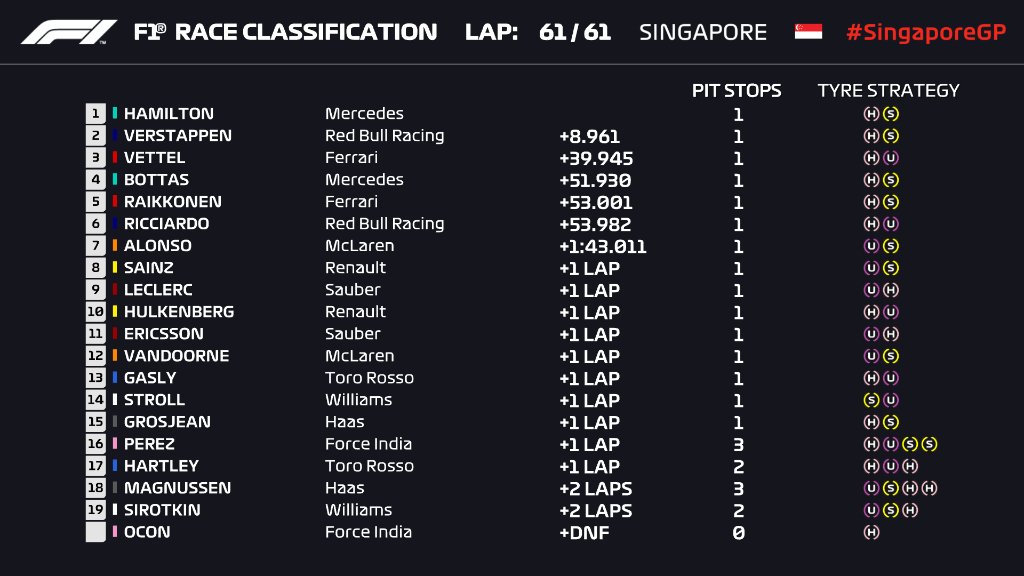 Photo: Getty Images
You may also like