The latest Government Gazette includes adjusted lockdown regulations that allow a limited number of fans to return to stadiums in South Africa.
The South African Football Association confirmed last Tuesday that it had been given the go-ahead for fans to return to stadiums when Bafana Bafana host Ethiopia at FNB Stadium in a 2022 World Cup qualifier in Johannesburg on Tuesday.
It has been over 18 months since spectators could watch live sports matches in the country due to the Covid-19 pandemic.
The official Government Gazette, published on 11 October, includes amended lockdown regulations with regard to fans being permitted to attend matches.
According to the new regulations, up to 2,000 spectators will be allowed to attend professional matches, subject to strict adherence to all health protocols and distancing measures.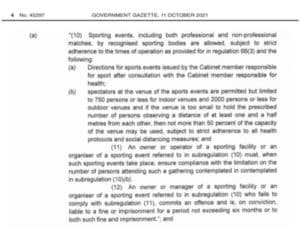 Unfortunately, this comes after reports that South Africa's domestic teams taking part in the Vodacom United Rugby Championship will be forced to play their scheduled home matches of this calendar year in Italy.
URC chiefs determined that South Africa's removal from the United Kingdom's red list had come too late to alter plans for the teams to base themselves in Italy.
The Stormers were supposed to play Italy side Zebre at Cape Town Stadium on 27 November, but will now play them in their own stadium in Parma instead.
That same weekend, the Bulls were supposed to host Munster at Loftus, the Scarlets were scheduled for a trip to Durban and the Lions were set to welcome Cardiff at Ellis Park.
All those round-six fixtures, as well as the round-seven matches scheduled to take place in South Africa, will now go ahead in Italy.
Photo: Ryan Wilkisky/BackpagePix
You may also like