Chris Bertish,  internationally acclaimed Speaker, Big Wave Surfer and Guinness SUP World Record Holder, set a new world record for his 24-hour solo, unsupported and unassisted, open ocean distance of 50.03nm.
The adventurer completed the feat on 15 February at 12:00pm.
This was achieved on his specialized Sup craft, the ImpiFish, which is 6 meters long (just under 20ft). This is the third World Record that Bertish has achieved on this epic and unparalleled ocean adventure. Bertish broke a record set by endurance SUP guru, Bart de Zwart of Hawaii, which was just over 46 miles, in 24 hours, on his solo journey that took him between the islands of Tahiti and Bora Bora in 2014.
'It was a beautiful morning!' Bertish exclaimed,  'I decided to give the Impifish a belly clean and changed out the centerboard to a smaller one and my paddle to a slightly smaller blade.  It seemed like the conditions were good and I decided to give it a go beginning at 12:00pm GMT on Valentine's Day.'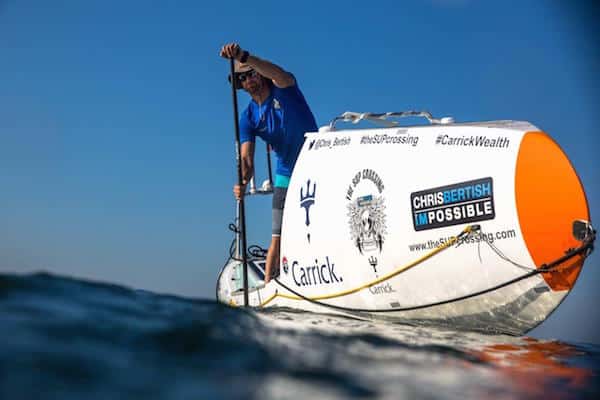 'I had been thinking about trying to see if it was possible to break this current world record, but I knew it would all be down to finding the right conditions, late in my journey, when the trade winds are the most consistent, when the craft is a little lighter, after eating a great deal of the rations and being at a point in the journey where I was most comfortable with myself and my craft. I have actually got over 46 miles a couple of times over the last month, but I wanted to do it officially and see if I could crack paddling 50 nautical miles in 24-hours, as I knew deep down inside, it was possible!' said Bertish.
Bertish also added, 'I'm going to personally donate and pay for one operation for a child in South Africa through Operation Smile for every World Record I achieve on this epic Trans-Atlantic World journey.  I believe it's important to set a good example to other sportsmen and women to follow by using their sporting achievements for good to positively influence, help others and give back whenever possible, as it's our responsibility to be the best role model possible for our youth and those that look up to their heroes and idols.'
'Chris' willingness to make a donation for each milestone achieved speaks to a larger impact in which his every stroke continues to change lives,' remarked Tamlin Abrahams.
Operation Smile South Africa's Regional Director, Central, Southern and West Africa. Ms. Abrahams added, 'We are so honoured to be not only recipients of this momentous journey but also partner with Chris as he literally changes lives one paddle stroke at a time. The Sup Crossing is a world record breaking event but the legacy it will leave will be a world-changing one.'
Bertish is no stranger to World Records, as he holds multiple SUP distance World Records, as well as the 12-hr SUP Distance Open Ocean Guinness World Record which still stands today at 130.10km/12 in 2013. He also completed the first ever,' Source-to-Sea: River Thames, England (Run 20km/Paddle 243km/Cycle 42km) and in less than 12 hours after completing this, Chris went on to set a new English Channel SUP World Record beating the previous time by 12 minutes.
Bertish began the Sup Crossing on 6 December 2016 from the mainland of Agadir, Morocco, traveling southwesterly past the Canary Islands.  He has already completed over three-quarters of the journey, paddling over 3000NM already and caught up to and overtaken two of the Solo rowboat paddlers in the Talisker Whisky Atlantic Challenge, which started in the Canary Islands, 10 days before Bertish got to that point.
Both the Trans-Atlantic Row Race and Bertish will finish the epic crossing in Antigua, one of the Leeward Islands of the Caribbean, sometime in early March. The entire SUP Crossing journey will take Bertish across just over 4050 miles/7500km of Open Ocean, traveling the equivalent of over a marathon a day for over 90 days straight.
The main goal of The SUP Crossing is to leave a lasting legacy by raising funds for The Lunchbox Fund, Operation Smile and Signature of Hope with the target of raising over 18 million rand and making the entire project a completely self-sustainable charity initiative that will have a lasting legacy for generations to follow.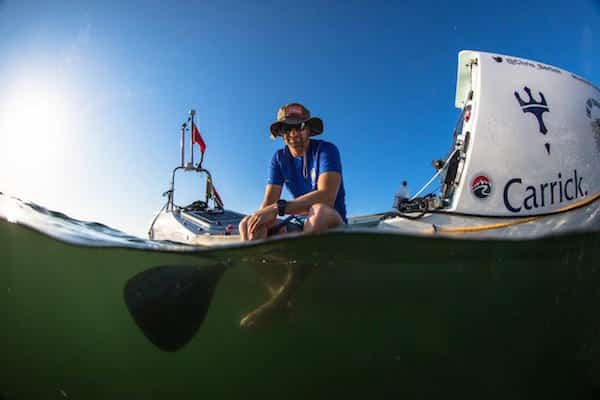 To follow Chris' journey click here: http://chrisbertish.com/sup-crossing/
You may also like