Banyana Banyana captain Janine van Wyk shares her thoughts in her exclusive column in SoccerClub magazine.
As I look back on my career so far, it's hard to believe that it all began when I tagged along with my cousin to a local Germiston club called Scaw Metals. As a young girl, aged six, I just wanted to play the game like my grandfather and uncles had always done.
It wasn't before I received my first major awards, the Player of the Year and Players' Player of the Year at Moroka Swallows, that I started to believe I had the potential to make a career and a living out of playing the beautiful game.
My dream, like many others alongside me, was to play for South Africa and I'm humbled by how far I have come. It is also time for me to set new goals, as becoming a double Olympian is without a doubt the biggest milestone I have had the honour of achieving thus far.
Fortunately, in football, there are so many tournaments that setting new challenges and getting motivated for big events is not a problem for me or my teammates. Up next is the African Women's Championship in November and Banyana will be looking to test ourselves against the best on the continent once again.
I'm also hopeful of taking my career to the next level and with a bit of luck, I would have impressed the scouts at the Olympics. I hope to make a move overseas so I can gain more experience and even start on my coaching badges.
We've seen with goalkeeper Roxanne Barker (below), who has signed for Heerenveen Vrouwen, that South Africa's female footballers are being recognised for their talent. And who knows how many more players will secure deals abroad in the wake of the Olympics?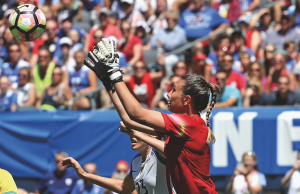 – This article first appeared in issue 72 of SoccerClub magazine.