Chelsea have transformed from a side lacking in direction and resolve to one of the most attacking in the Premier League, writes GARY LEMKE in SportsClub magazine. 
The only time you'd have seen a 3-4-3 formation in the Premier League was on Fifa 16. Until Antonio Conte arrived at Chelsea.
The hyperactive Italian manager became the bookmakers' favourite as next manager to be sacked after a tame performance at The Emirates had seen Chelsea lose for the second time in eight days. A 2-1 defeat at home to Liverpool had been followed by a 3-0 pasting at Arsenal.
It is said that at half-time in that match, with the Gunners already 3-0 up and out of sight, Conte lost the plot in the dressing room. Figuratively, not literally, that is. Because he left his players knowing, in no uncertain terms, that if they didn't pull up their socks, they'd be shown the exit in the next transfer window.
What Conte also did was change his system, going from a 4-4-2 formation to 3-4-3 for the following week's match at Hull City at the beginning of October. The result was a 2-0 win to Chelsea and the display was anything but memorable, but it was the win that counted. Conte had stopped the bleeding and also introduced his players, the fans and media to a more attacking combination that allowed Diego Costa, Eden Hazard and Pedro to do virtually as they pleased, inter-changing as a front three.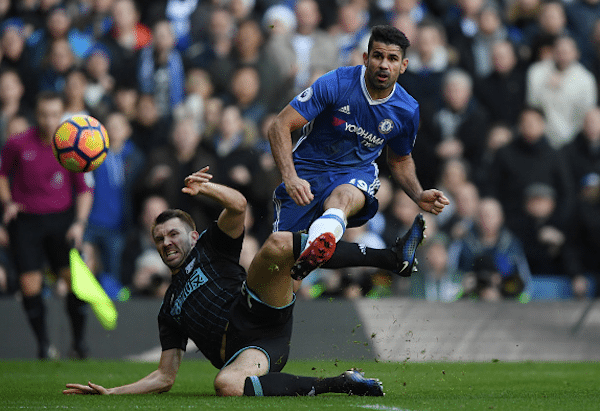 The following week Chelsea welcomed Premier League champions Leicester City to London. The game ended 3-0. Then came a public humiliation of former Stamford Bridge demi-god, Jose Mourinho, who watched as his Manchester United side were destroyed 4-0 in a breathtaking display of attacking football. So incensed was Mourinho that, at the final whistle, he had a few harsh words for Conte. In essence, the embarrassed 'Special One' was furious that the Italian had urged the fans to applaud their side in the last 10 minutes because it's not every day you can celebrate a 4-0 win over United. Oh, he also implored Chelsea to go for a fifth goal.
By now, the 3-4-3 combination was the talk of the Premier League. A fourth successive win (2-0) at Southampton was followed by a 5-0 drubbing of Everton, a 1-0 victory at Middlesbrough and then a 2-1 win over London rivals Tottenham.
It was Chelsea's seventh win in a row. They'd scored 19 goals and conceded one, and picked up 21 points that lifted them to the summit of the league. They'd also fielded the same starting XI for all those games – which meant that club captain John Terry was forced to watch from the dugout as Gary Cahill took the armband and starred in a back three comprising himself, a rejuvenated David Luiz and Cesar Azpilicueta.
Impressive as all this undoubtedly was, perhaps Conte's finest achievement was ensuring that star striker Costa had kept his emotions in check. Starting the sequence of seven successive wins, the Spanish hothead had been one yellow card short of a suspension.
However, Conte's man-management skills had come to the fore and even though one man is Italian and the other Spanish, nothing was lost in translation. Costa had been told to clean up his act, and he had. That also ensured the goals kept coming and coming, and by early-December the hitman had also gone to the top of the season's goal-scoring charts.
The beginning of December also brought the biggest test of Conte's managerial career in the Premier League. A trip to Manchester City, where Pep Guardiola's expensively-assembled and much-vaunted side lay in wait.
Because of injury, Conte was also forced to change his starting XI for the first time in eight matches and City got on the scoresheet when Cahill deflected a cross into his own net. City's striker, Sergio Aguero, taunted the opposing captain, who buried his head in the turf.
Last season, under Mourinho, the signs were there that his Chelsea side didn't seem to want to play for their manager. Under Conte, things are different. Victor Moses, an outcast under Mourinho, reckons it's Conte's passion that inspires the side. Conte shouts himself hoarse every match and has lozenges specially imported from Italy to soothe his throat after a match. 'We love his energy; he inspires us to keep going,' says Moses.
Well, Conte's half-time talk must have also been inspiring, for when Chelsea came out at 1-0 down for the second half, they were quickly back on level terms, through Costa, before goals by Willian and Hazard completed a remarkable 3-1 turnaround.
By the end of the game City were down to nine men after Aguero was given a straight red for a vicious tackle on Luiz. Fernandinho also received a red card for grabbing Cesc Fabregas around the throat in the ensuing chaos. Handbags, it's called, but it also meant suspensions for the two City players. Aguero's enforced absence threatened to stall City's title charge.
By mid-December, Chelsea had added the scalps of West Brom and Sunderland to their collection with a pair of 1-0 wins, stretching their winning streak to 10. Some other managers had tried to replicate the 3-4-3 system that was Conte's trademark while coaching in Italy. However, it takes time to bed in such a formation and Chelsea had got first run at the opposition.
As Christmas approached, the league had the look of a top four that might end – in alphabetical order – Arsenal, Chelsea, Liverpool and Manchester City, with Tottenham and Manchester United rounding off the top six.
In the space of a couple of months, Conte had gone from the bookies' favourite as next manager to be sacked to one  whose job was considered safest. The transformation in the team was also eye-opening and it was difficult to believe this was virtually the same personnel from the previous season who had given up on Mourinho.
How would the show go on at the Bridge, fans openly asked when the Special One left the club last year. They now have their answer.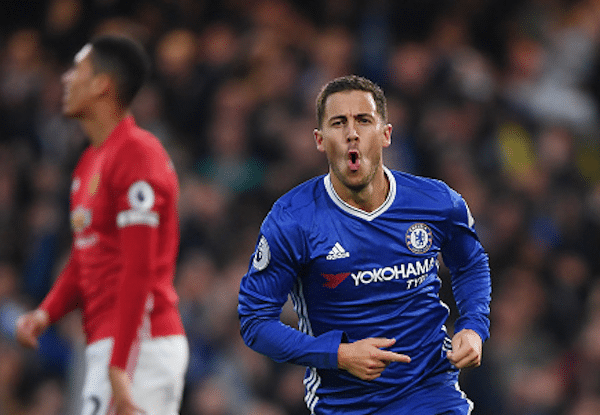 – This article first appeared in Issue 104 of SportsClub magazine